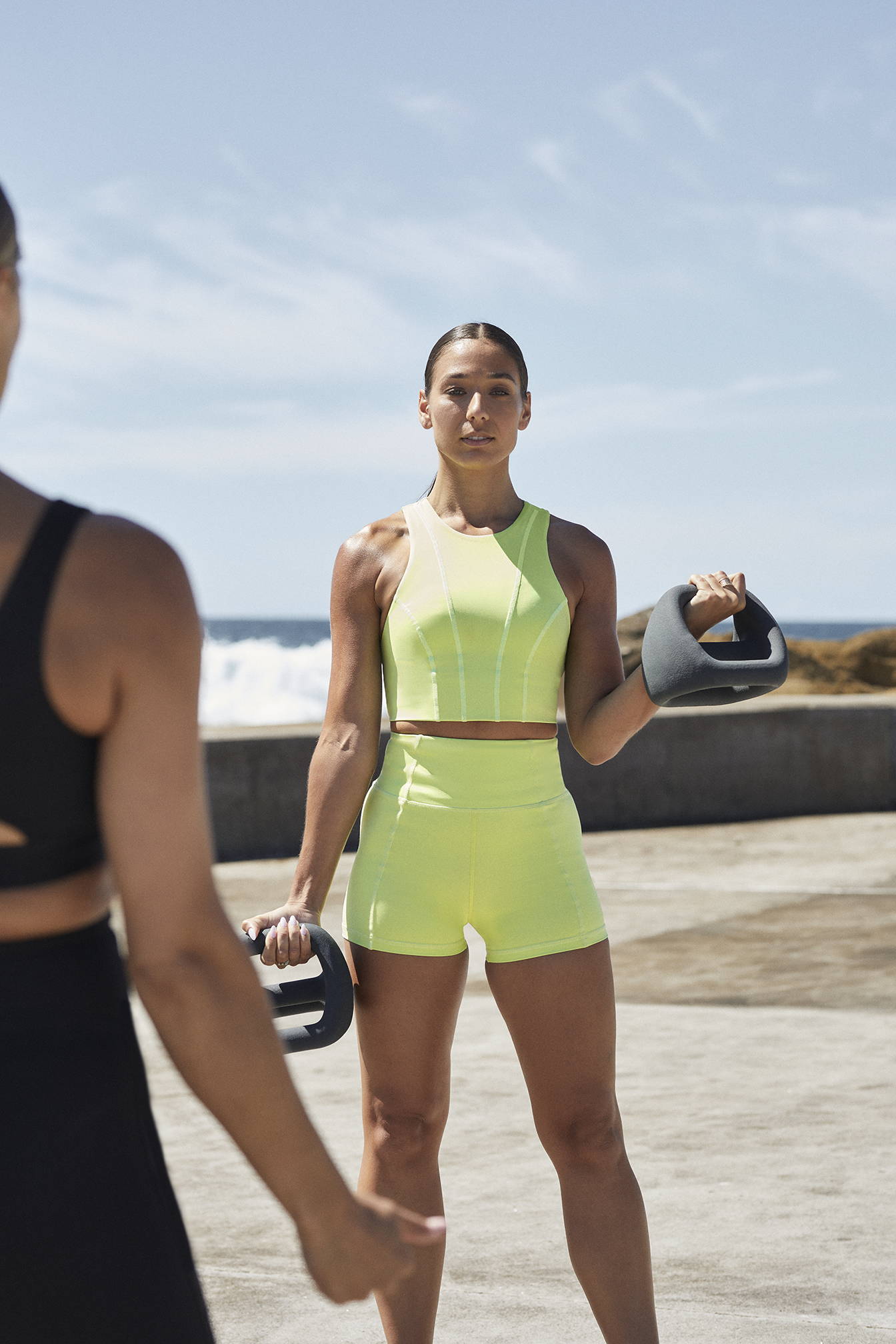 Meet Olia Burtaev | The Former Olympian Reveals Her Top Tips For Staying Motivated In 2023
With over 10 years as a professional synchronised swimmer, former Olympian Olga 'Olia' Burtaev knows a thing—or several—about how to stay motivated.
Starting with rhythmic gymnastics and ballet at the age of five, before taking on eight hours of swim training a day at just 10 years old, the now 27-year-old sportswoman is no stranger to hard work and kicking goals, even at the toughest of times.
It's a drive that inspired Olia, who also has a degree in sports science, to create her own hybrid training platform: The Modern Body, which combines her love of various movement styles to create the ultimate workout for modern athletes.
To learn more about how the AJE ATHLETICA ambassador stays motivated—including her top tips for staying on track with your workouts—we caught up with Olia in Sydney, Australia, where she worked up a sweat the latest A.A looks.
Keep reading for our conversation with the goal-getting Olia Burtaev.
What is your favourite way to work up a sweat and why?
I've always enjoyed a hybrid combination of workout styles, my current favourite way to build up a sweat is through ballet and barre workouts, or by doing a cardio-inspired Pilates workout.
I have always enjoyed the movement patterns of these workouts, [especially when] including a combination of equipment to intensify the training whilst simultaneously practicing grace and elegance through movement.
What are your top five tips for getting and staying motivated to exercise?
Keeping a weekly routine so that you stay on top of what you prioritise in your life, even if it's hard to do — the tasks will be built into your daily habits.
I am all for recording, filming, taking photos and seeing yourself for personal feedback. This can be purely for technique and skills in training or to track weight loss or muscle gain. I think it is one of the best methods to gain confidence in yourself whilst being patient in achieving your personal goals. It is also extremely helpful if you do not have a personal trainer or coach as it will provide you the same feedback.
This doesn't always have to do with training goals but can also include mental health and physical health.
If you are someone who trains daily or is under constant stress at work or university — your body will feel the consequences. Be patient and learn to adapt the exercises to what your body needs.
Don't be shy to try a different training style and challenge yourself physically and mentally. Not only will this keep you more interested in learning new skills but will also keep your brain active and alert.
What are your favourite looks from AJE ATHLETICA's latest collection to work out in and what do you like about these looks ?
I, personally, go either two ways: black and minimal, or bold and bright! Luckily, AJE ATHLETICA has both options (depending on which mood I am in).
From this collection, I absolutely loved the 'Spliced' set. The styles have a beautifully cut top which is very elegant and can be worn when exercising, as well as when on the go!
What was a major life lesson you learnt and grew from in 2022?
I wouldn't say this was a lesson, but something I found myself doing this year is saying 'yes' to opportunities (even when I wasn't sure) and figuring things out along the way.
I definitely became a 'yes girl' this year and have created some of the most amazing memories in my life as of yet. With that being said, I guess I will need to keep reminding myself to stop overthinking, stop caring so much about the little things, and to just go for it!
Looking forward, what are your fitness goals and/or resolutions for 2023?
I'm so excited for what 2023 has to bring! I am looking forward to continuing my training business and expanding myself as a person!
I am feeling more confident in myself and even though I have had many transitional moments this year. I believe that 2023 will bring out the best in me. Every year I remind myself to listen to my gut and follow my instinct — and I have had my best year yet.
I want to focus on my personal training goals this year and go back to doing more artistic training such as ballet , dance and synchro sessions. I want to include more choreography so that I can challenge myself personally and add the performance element back into my routine.
Explore the latest activewear from AJE ATHLETICA